The mechanical drain cleaning machine, sometimes referred to as a "cable machine" or "drain auger", is the oldest type of drain and sewer cleaning technology.
In the cable machine's earliest form, simple flat metal tape was used to clear out drain obstructions and clogs. Flexible coil springs were later added to make it easy to navigate pipe bends and turns. These early machines were manually powered, often with a hand crank used to rotate the drain cable. As time went on, motors were added to make the task less labor intensive.
Although the basic approach to cable machines has not changed, the technology has been much improved and refined over the years. Machines are lighter and more powerful than their predecessors, cable and cutting blade attachments have become stronger and more rust resistant, and most importantly, cable machines are much safer to operate and cause fewer injuries than in the early days.
There are two major types of drain cleaning machines used today in residential and light commercial applications: sectional cable machines and continuous cable machines.
These machines use numerous open wound cables from 4 to 8 and sometimes up to 15 feet in length. Sectional cables are joined one at a time to a power auger and rotated in the pipe. The power auger unit is kept separate from the cables until the pipe is cleaned. Because the two components of sectional machines are separate, sectional machines are usually considered lighter to transport.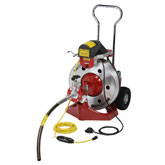 The sectional cables are transported in a carrying case which looks like an open cage with a handle. Sectional cable machines are popular in the consumer rental market, because they can fit quite nicely into the trunk of an automobile and are easily carried by one person. However, sectional cable machines take longer to clean the pipe since you have to constantly couple and uncouple the small segments of cable. Also, they are difficult to use inside the house, because they splatter "sewer juice" as the cable rotates.
Continuous Cable Machines
These machines have a power auger unit with a drum containing a cable. The cable(s) is one continuous piece. The one continuous cable piece may consist of 25 feet, 50 feet, 100 feet or more, joined together by a coupling(s). The lengths of the cable may vary.
During the operation of a continuous cable machine, it is not usually necessary to add cables. A continuous cable machine is sometimes perceived to be heavier than a sectional machine because all these components -- power auger unit, drum, and cable -- are one single unit. The upside is that continuous cables are much faster to use and never splatter "sewer juice" so long as the drum is fully enclosed and not just an open cage-type construction.
Most professional sewer and drain cleaners use continuous cable machines, of which Spartan Tool is the industry leader.
Continuous Cable Machine Brand Comparisons
The following table lists several major brands of professional use drain cleaning machines (continuous cable machines). This is not intended to be an all-inclusive list of available drain cleaning drum machines; rather, our purpose is to show a variety of cable machines available.
The specifications listed are taken from the manufacturer's literature and website, and includes standard features for each machine. In most cases, additional features not included with the base machine can be purchased separately as an accessory.
| | | | | | |
| --- | --- | --- | --- | --- | --- |
| | SPARTAN TOOL MODEL 2001 | RIGID K7500 | GORLITZ GO 68HD | GENERAL SPEEDROOTER 92 | ELECTRIC EEL MODEL D-5 |
| | | | | | |
| | | | | | |
| | | | | | |
| | | | | | |
| | | | | | |
| | | | | | |
| | | | | | |
| | | | | | |
| | | | | | |
| | | | | | |
| | | | | | |
| | | | | | |