Our hydro jetters are the premier (and preferred) tool for powering through difficult stoppages in sewer lines. However, their versatility doesn't end there. By simply adding a washdown kit to your Spartan Tool hydro-jet, you can tackle a variety of other cleaning services and increase your profits.
Here are just some of the cleaning services you could offer with a wash down wand attachment
Exterior house cleaning
Sidewalk and driveway cleaning
Restaurant garbage areas
Parking garages
Car and truck rental companies*
Ship yards and marinas
Graffiti removal
Fully taking advantage of your sewer jetter's might will make an already smart investment smarter.
* 1000 PSI or less, do not use water stream, stand at least 6-8" away from vehicle
Wash Down Wand/Power Washer Gun/Handgun & Lance
Spartan Tool's wash down wand (with variable nozzle) can withstand pressures up to 1000 PSI and fits 1/4" hose: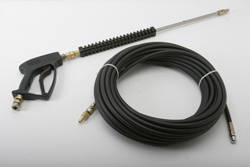 Wash Down Wand Accessory Kit
Includes handgun & lance, as well as 75' of 1/4" jetting hose. Included with your purchase of the Soldier, the Model 758, or the Model 740.